Earthlapse by Jetson Creative LLC
Turn your iPad or iPhone into a window aboard the International Space Station. Experience stunning views of Planet Earth captured by NASA astronauts. Touch the views and control the planet with your finger. A truly amazing one-of-a-kind experience.
iMovie by Apple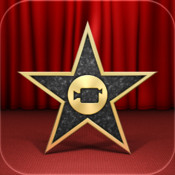 Make beautiful HD movies anywhere with iMovie, the fast and fun moviemaking app that puts everything you need to tell your story at your fingertips. Browse and play projects in the Marquee view. Create Hollywood-style trailers or sophisticated home movies in minutes.* And share your finished projects with the world – right from iMovie.
Garage Band by Apple
Whether you're a musical prodigy or just love creating your own walls of sound, GarageBand for iOS gives you all the tools you need to lay down fresh tracks, have a jam session with friends, and record music anywhere you go.
Educreations Interactive Whiteboard
Educreations turns your iPad into a recordable whiteboard. Creating a great video tutorial is as simple as touching, tapping and talking. Explain a math formula… Create an animated lesson… Add commentary to your photos… Diagram a sports play…
Skywrite

Great for Dictee practice! Send messages that are beyond words and larger than life! Imagine sending your love by spelling it out in the sky or congratulating a friend with a message in the clouds. Now you can with Swakker Skywrite! Draw or type a message and share it with a friend who watches an airplane write it in the sky.
French Word Wizard
Great for Dictee practice! French Word Wizard is a unique app that lets kids hear the sounds of letters and words using a talking movable alphabet. Featuring advanced text to speech capabilities, the app can pronounce and spell-check an unlimited number of original french words.